BUILDABLE LOT VAL VERDE LOS ANGELES COUNTY HARDING AVE PAVED ROAD GREAT LOCATION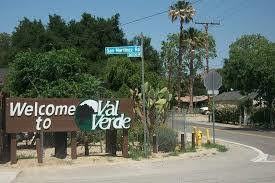 This 22,790 square foot (over one half acre) parcel is located on Harding Avenue which is a paved road. This is an extremely large lot for Val Verde. It has 83 feet of frontage on Harding Avenue and is 274 feet deep.  It is about 40 miles northwest of Los Angeles. It is located just past Six Flags Magic Mountain Amusement Park in Santa Clarita. If you ever watched National Lampoon's Vacation this is the Wally World Clark Griswold goes to. The parcel is located across the street from 28639 Harding Avenue which is 3 bedroom 1611 square foot house which Zillow estimates to be worth almost $518,000. The house sits on a 4000 square foot lot. Utilities are in the street in front of the parcel. Harding Avenue is a developed neighborhood in the middle of Val Verde. Developer Hunt Williams is currently in the permitting process to build 200 homes on 114 acres on Del Valle Road where it meets Hunstock Avenue. This is a little over a half mile from the property. There is plenty to do here for the outdoor enthusiasts. Lake Piru and Castaic Lake are each about 5 miles away for all your water sports. And there is plenty of hiking and camping in the area. There is plenty of shopping in Santa Clarita with Wal Mart, Costco and Home Depot located there among many other national chains. To get to the parcel exit Interstate 5 at exit 172 which is Newhall Ranch Road. This is State Route 126. Go west for about three miles and turn right onto Chiquito Canyon Road and go for about a mile and a half. Turn right on Lincoln Avenue. Follow it for less than a quarter mile and take the third right which is Wilson Street which turns into Harding. The parcel is at this junction right across the street from 28639 Harding. There is a telephone pole at the front of the parcel.
About three miles south on the other side of State Route 126 is the master planned community of Five Points Valencia (which used to be known as Newhall Ranch). It is just now getting going with sales starting next year. At build out there will be over 21,000 homes. I repeat 21,000 houses. In my opinion property values can do nothing but go up from here. Five Points is master developer of the Great Park in Irvine in Orange County so you know it is going to be a first class development!
Buy this property today for just $24,997
 Own It Today For Just $24,997 (OR $2,497 Down 104 payments / $300 per mo. and a nominal interest rate of 7.945%)
 
FOR CASH IN FULL WE WILL TAKE 10% OFF THE PRICE
The parcel is sold as-is and where-is with no warranties or guarantees either given or implied by the Seller. It is incumbent upon the Buyer to do their due diligence as to the suitability of the parcel for their own particular usage and/or needs. The sale of this parcel shall be final and no refunds shall be given whatsoever for any reason. THE TITLE WAS THOROUGHLY CHECKED AND THE SELLER GUARANTEES THERE ARE NO LIENS OR ENCUMBRANCES AGAINST THE PROPERTY.WE ACCEPT PAYPAL OR CERTIFIED FUNDS THROUGH THE MAIL.
This parcel is in my IRA-Individual Retirement Account and we can only accept funds through the mail 
Disclaimer – Buyer must perform their own due diligence they should do with any land purchase. This land is sold as is and all information provided is to the best of seller's knowledge. Seller does not guarantee accuracy of property location on maps or descriptions show in listing as well as facts describing the property. Buyer to verify all details of property including property location and boundaries and lot lines, as well as feasibility to use property for buyer's desired purpose.  Many of the pictures provided are not personally taken by the seller and some of the presented pictures represent the general area near/around the property. All utilities related to this property are potentially subject to a connection charge or additional expense to bring them to or onto the property.  Furthermore, It is understood and agreed to by the parties involved that selling party, while holding an equitable interest in and to the property, is not presently making, and has not made, any representation to any party that it holds legal title in and to the property.  To the fullest extent permitted by law, the Buyer hereby agrees to waive, release and forever discharge Happyland.com, Happyland.com and all its affiliate companies from any claim, be it at law or in equity, that the Buyer, their heirs, transferees, assigns, subrogees, devisees, and agents may allege, arising out of our disclosure(s) of its present interest in and to the property, if any as well as out of any potential and accidental discrepancies in lot lines, pictures or property location to the actual property.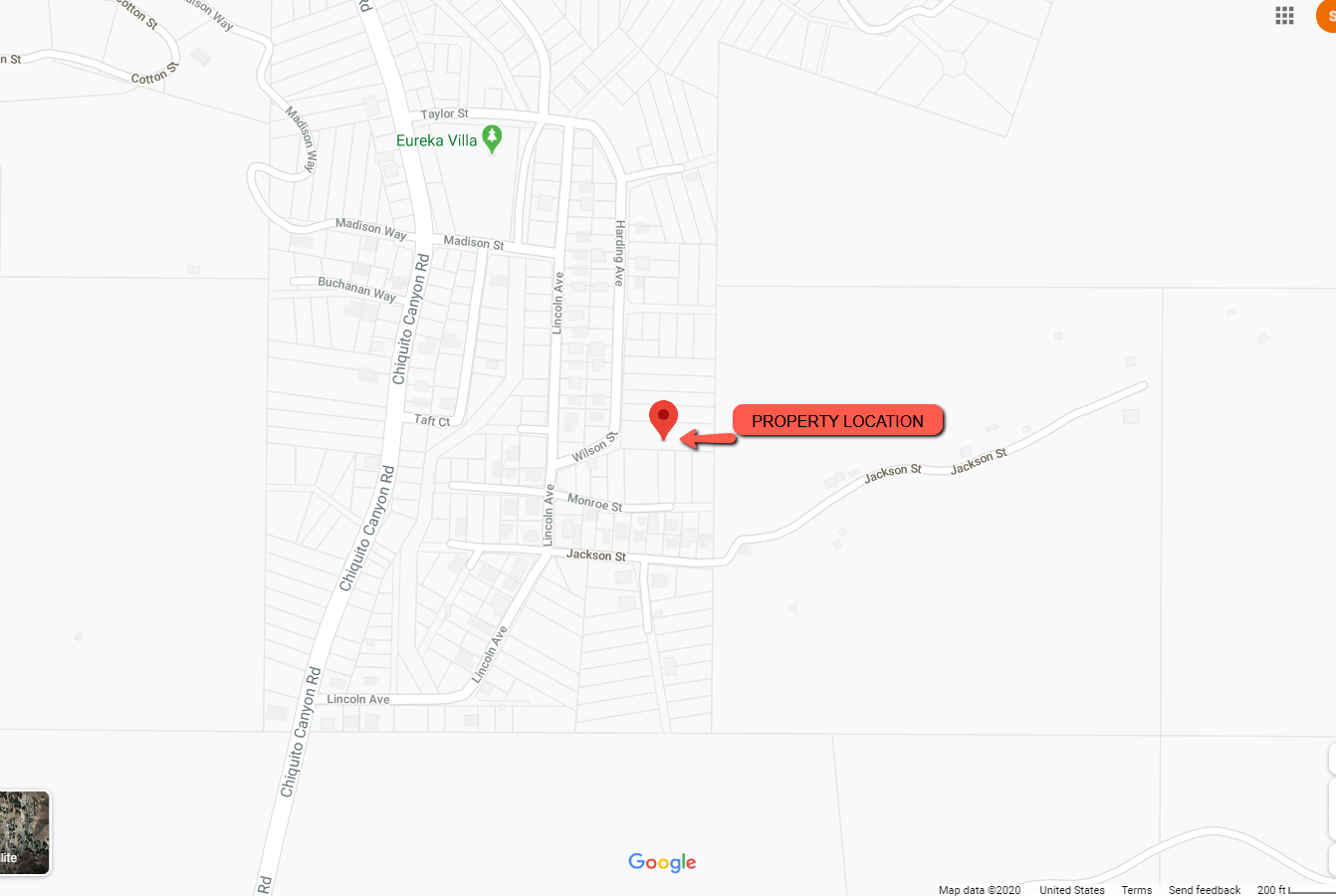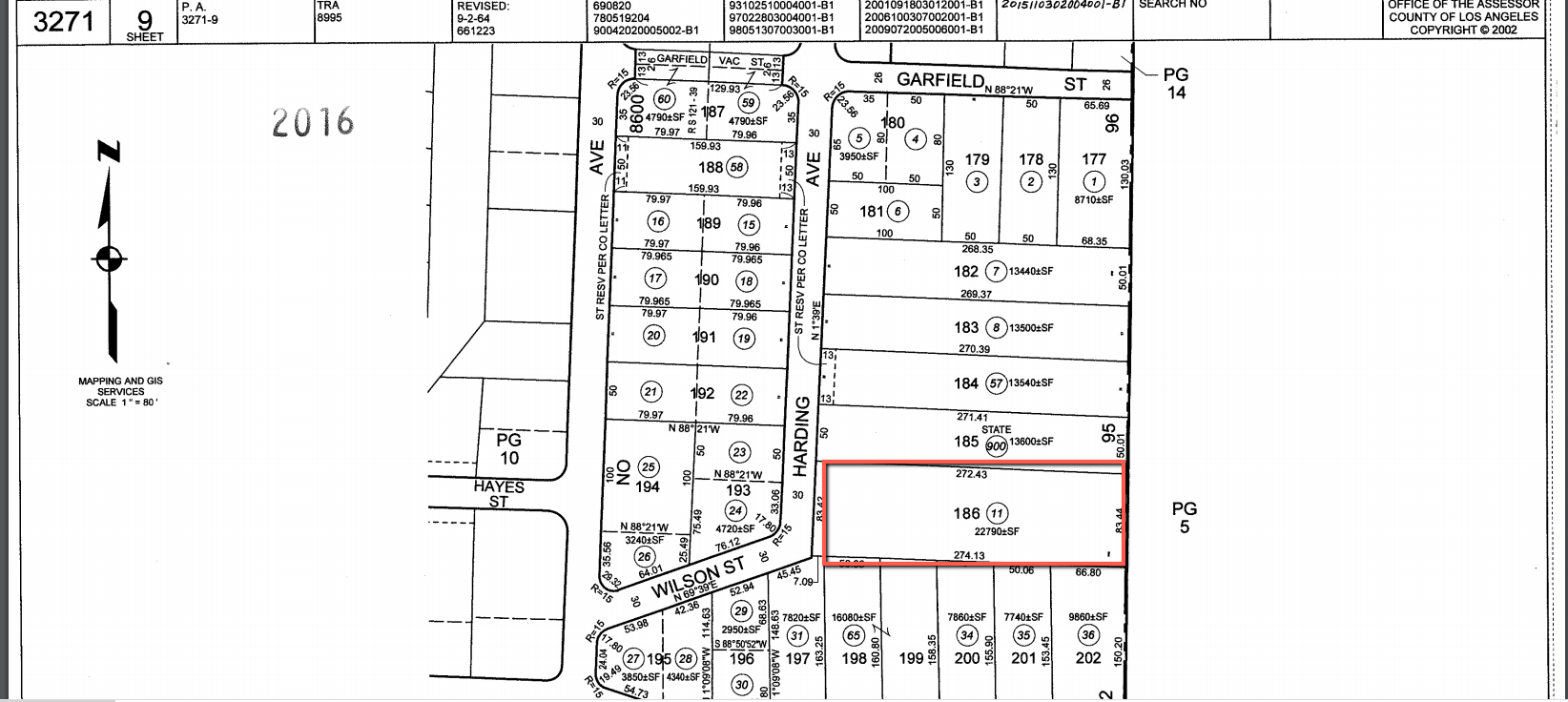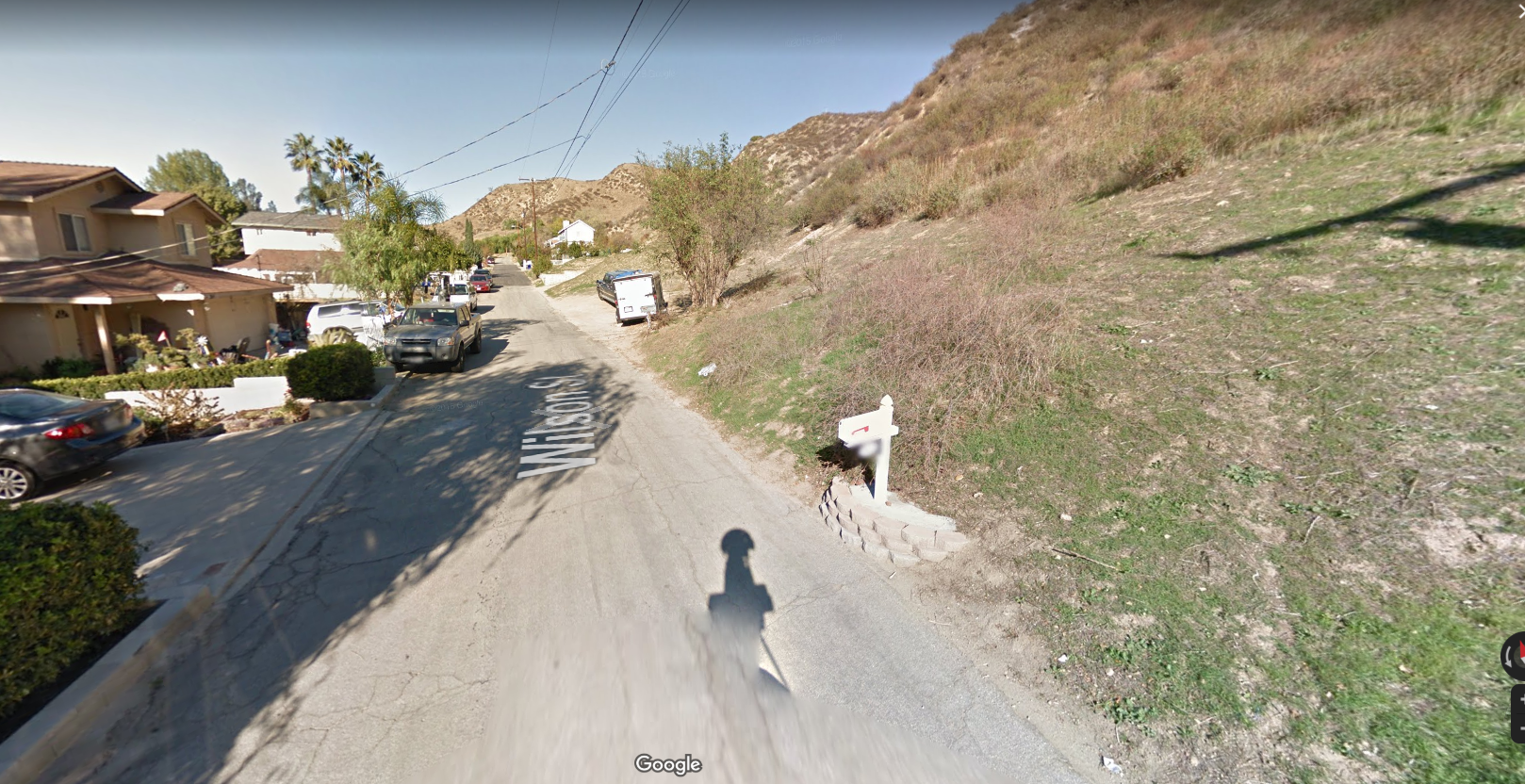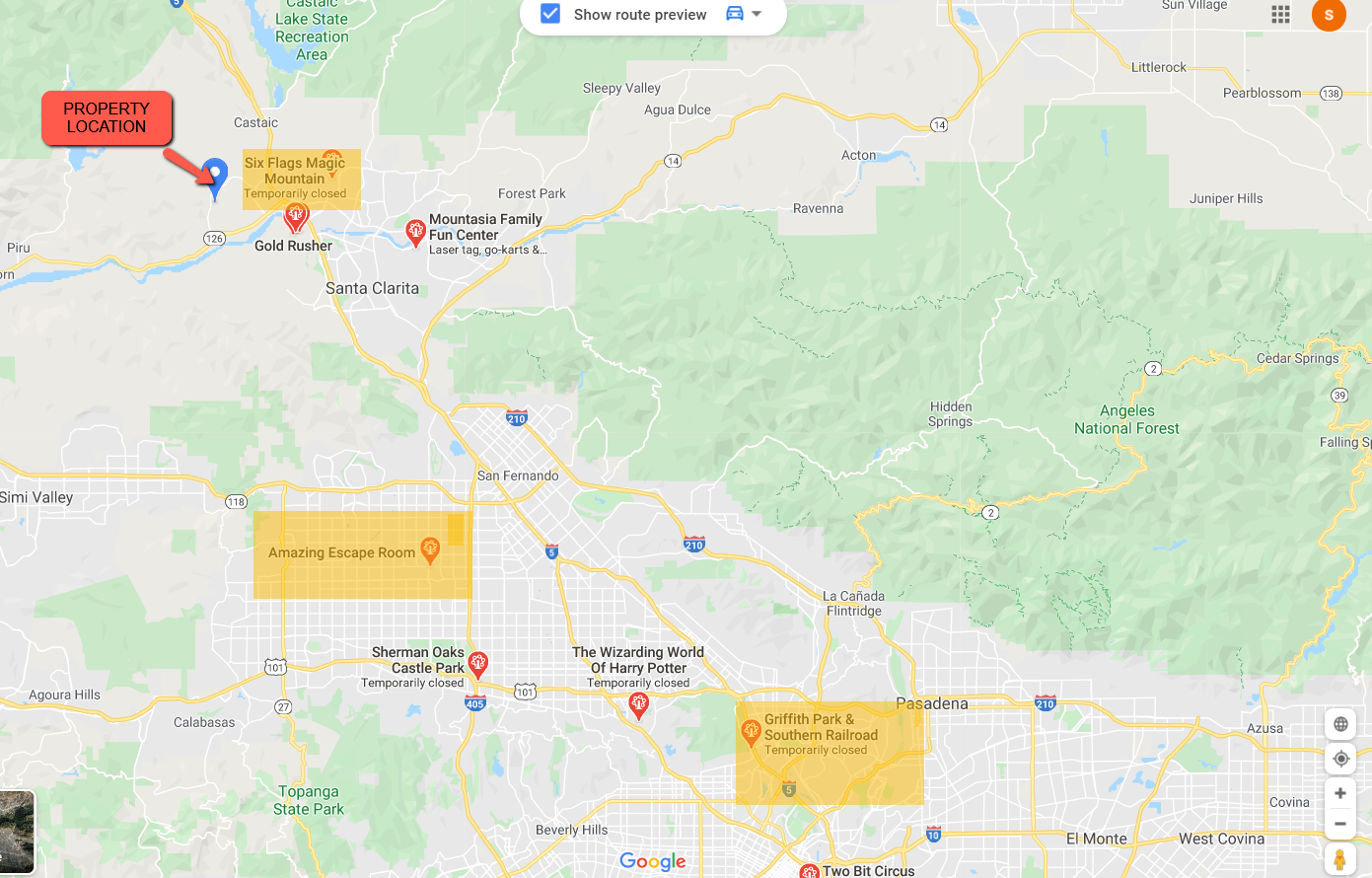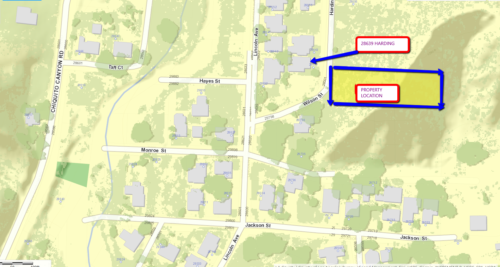 Map To Property
Property Address:
Property Details
Status: Available
State:
County: Los Angeles County
Parcel Number: 3271-009-011 Plat Map
Short Legal Description: TRACT # 8600 LOT 186
Annual Property Taxes: 642.14
Size (In Acres): 0.52
Size (In SqFt): 22790
Road Access: Yes - Paved
Electricity: Yes
Zoning: Residential
Terrain: Sloping
.
Buy this property today for just $24,997
I'm Interested In This Property