BEL AIR DIRECTLY ON BEVERLY GLEN BLVD. LOS ANGELES COUNTY
LOS ANGELES COUNTY ,CA LAND FOR SALE 2,544 SQ FT.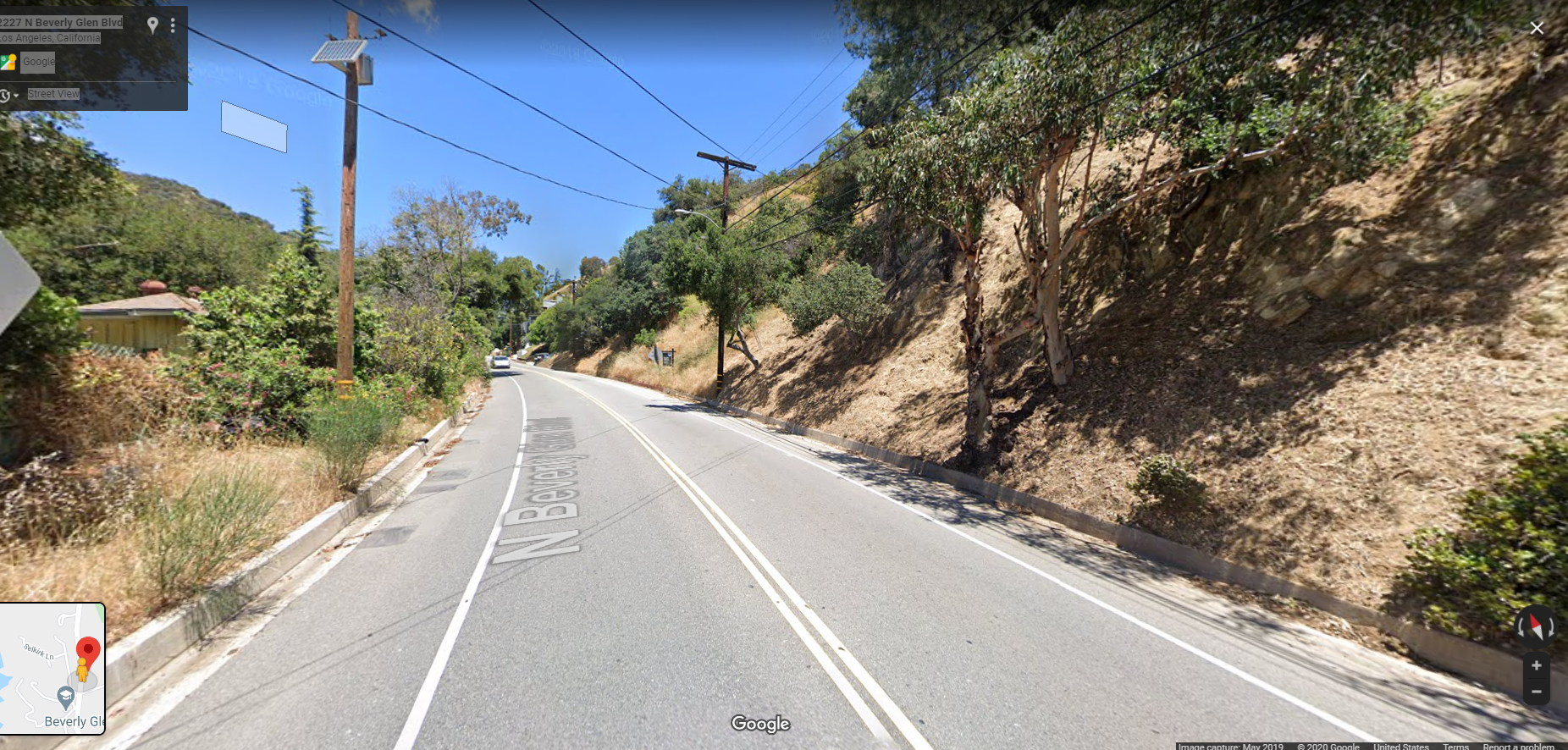 LOCATION, LOCATION, LOCATION !!!  In the Hollywood Hills adjacent to the Los Angeles communities of Holmby Hills and Vererly Hills lies the quiet and exclusive area of Bel Air.  It is an affluent residential community in the hills of the Westside of the city of Los Angeles, California.  Together with Beverly Hills and Holmby Hills it forms the Platinum Triangle of Los Angeles.  Bel Air is home to numerous Hollywood celebrities and high-profile corporate executives.  Residences in Bel Air tnd to be private and hidden by dense foliage and gates, from the winding roads of the community.  Bel Air offers easy ccess to both the San Fernando Valley and West Los Angeles.  Bel Air homes range from $400,000 up to $30 million dollars,  It would take quite a while to experience all the activities that Los Angeles offers.  There are world famous theme parks like Universal Studios Hollywood, Six Flags Magic Mountain and Disneyland.  Shopping is one of the best activities in Los Angeles from digging through vintage stores to shopping for luxury goods.  Eclectic shopping neighborhoods can be found throughout LA.   Rodeo Drive is a must-see for the jet set!  With so much land to explore and LA's enviable weather, some of the best recreational activities in the country can be enjoyed in Los Angeles year round.   Los Angeles 75 miles of coastline include world famous beaches from Malibu down to the South Bay and San Pedro.
The lot is zoned residential and is very close to Beverly Hills which is also an affluent city in Los Angeles.    It is home to the shopping district of Rodeo Drive and tons of restaurants that movie stars visit.  The parcel is surrounded by million dollar homes !!! You cannot find a better location than this!  It is located diarectly on Beverly Glen Blvd.  It is not landlocked !! You have direct access from Beverly Glen Blvd.  You park your car directly in front of the parcel.  
To get to the property go north on the 405 freeway and get off and go east on Sunset Blvd for about a mile and a hal and turn north (left) onto Beverly Glen Blvd. The property will be about a mile and a half mile up on the right between 2208 and 2280 Beverly Glen Blvd, just past Seabury Lane,  All utilities are in the street in front of the parcel. 
Buy this property today for just $29,997
 Own It Today For Just $29,997 (OR $1,997 Down 144payments / $300 per mo. and a nominal interest rate of 7.81%)
 
FOR CASH IN FULL WE WILL TAKE 10% OFF THE PRICE
The parcel is sold as-is and where-is with no warranties or guarantees either given or implied by the Seller. It is incumbent upon the Buyer to do their due diligence as to the suitability of the parcel for their own particular usage and/or needs. The sale of this parcel shall be final and no refunds shall be given whatsoever for any reason. THE TITLE WAS THOROUGHLY CHECKED AND THE SELLER GUARANTEES THERE ARE NO LIENS OR ENCUMBRANCES AGAINST THE PROPERTY.WE ACCEPT PAYPAL OR CERTIFIED FUNDS THROUGH THE MAIL.
This parcel is in my IRA-Individual Retirement Account and we can only accept funds through the mail 
*Disclaimer – Buyer must perform their own due diligence they should do with any land purchase. This land is sold as is and all information provided is to the best of seller's knowledge. Seller does not guarantee accuracy of property location on maps or descriptions show in listing as well as facts describing the property. Buyer to verify all details of property including property location and boundaries and lot lines, as well as feasibility to use property for buyer's desired purpose.  Many of the pictures provided are not personally taken by the seller and some of the presented pictures represent the general area near/around the property. All utilities related to this property are potentially subject to a connection charge or additional expense to bring them to or onto the property.  Furthermore, It is understood and agreed to by the parties involved that selling party, while holding an equitable interest in and to the property, is not presently making, and has not made, any representation to any party that it holds legal title in and to the property.  To the fullest extent permitted by law, the Buyer hereby agrees to waive, release and forever discharge Happyland.com, Happyland.com and all its affiliate companies from any claim, be it at law or in equity, that the Buyer, their heirs, transferees, assigns, subrogees, devisees, and agents may allege, arising out of our disclosure(s) of its present interest in and to the property, if any as well as out of any potential and accidental discrepancies in lot lines, pictures or property location to the actual property.
Map To Property
Property Address:
Property Details
Status: Available
State: CA
County: Los Angeles County
Parcel Number: 4380-030-003 Plat Map
Short Legal Description: TRACT # 1033 EX OF ST LOT 12 BLK 37
Annual Property Taxes: 273.36
Size (In Acres): 0.06
Size (In SqFt): 2544
Road Access: Yes - Paved
Electricity: Yes
Zoning: Residential
Terrain: Steep Incline
.
Buy this property today for just $29,997
I'm Interested In This Property