CALIFORNIA CITY BUILDABLE LOT.23 ACRES
100's OF HOMES IN THE AREA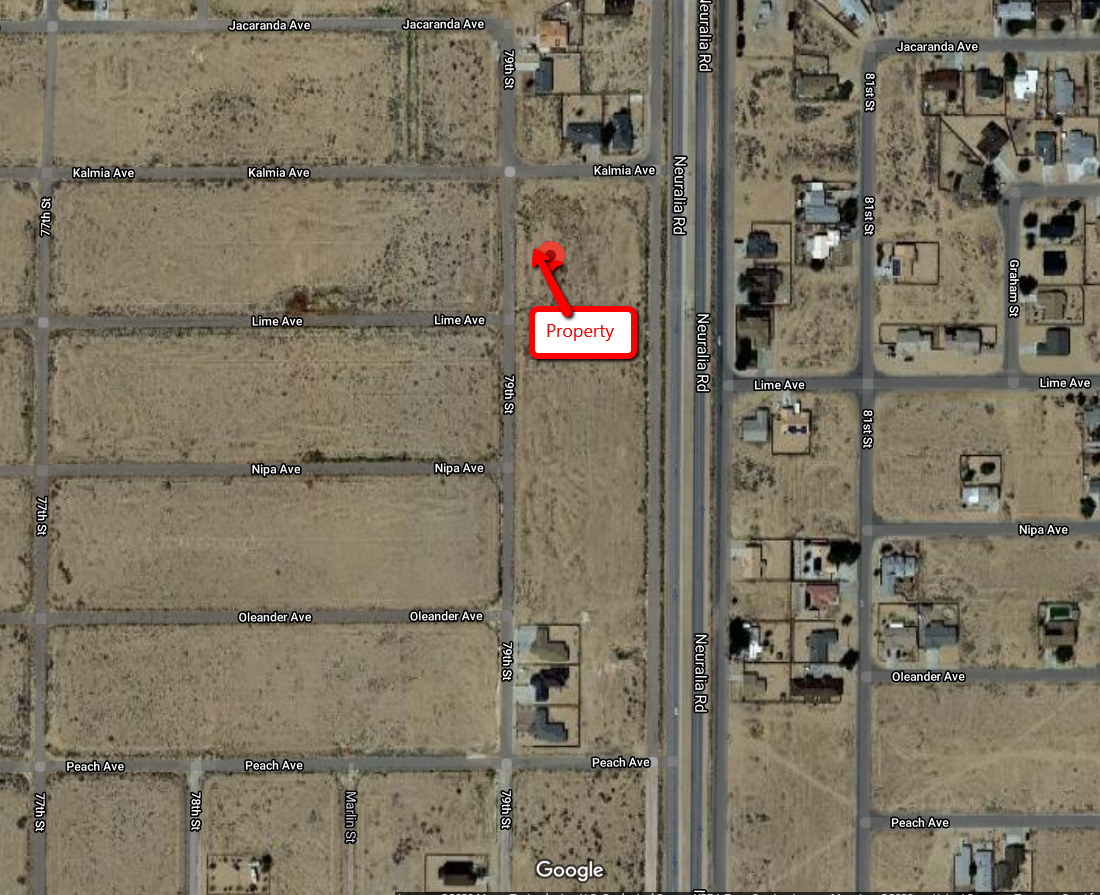 Look at This Beautiful Piece of California Land - 0.23 Acres of Raw Land.  in Kern County, California. 
For sale is a buildable lot near the heart of California City. It is about 3/4 mile south of California City Blvd. and just west of Neuralia Road-two of the main roads running through California City. It is on the west side of town located right in path of progress. There are hundreds of homes in the area with the nearest one being three lots over on Kalmia Avenue. California City is located about 100 miles north of Los Angeles in Kern County and very close to Edwards Air Force Base. The population at the 2010 census was about 14,000. There are two golf courses and an 80 acre park named Central Park located in the city. They are about two miles from the parcel. Almost across the street and one lot over on Kalmia Avenue is a lot listed for $10,000. We are selling this lot for less than half that price. To get to the lot from Los Angeles go north on Interstate 5 to Route 14 also known as Aerospace Highway and go right on California City Blvd. Go about 7 miles and turn right on Neuralia Road. Go about 3/4 mile and turn right on Kalmia Avenue. The first left is 79th Street. The parcel is the third lot on the left. 
Area Information:  
What's Happening in Kern County, California?
Kern County has grown tremendously over the past years. Just from 1990 to 2000 the population has grown over 21 percent and 14.4 percent from 2000 to 2005. Don't expect this hot market to cool down anytime soon!

County Profile!
The county was named for Edward M. Kern, topographer who accompanied explorer John C. Frémont Kern County is one of 58 counties in California. The county is in the Bakersfield metro area. Of nation's counties, Kern ranks No. 2 in production of grapes; 2 in production of cotton; 9 in production of oranges; 8 in production of plums and prunes; 2 in production of watermelons (1997 Census of Agriculture)

Things to do
Golf -
Kern County offers more than thirteen golf courses to choose from.

Adventure -
Welcome to thrill-seeker paradise. The Kern River is a top paddling destination for whitewater sports, rock-climbing and mountain biking. Our desert boasts clear gliding conditions, while both the valley and desert offer premiere skydiving.

Camping
Lake and riverside camping opportunities abound in both the mountains and the San Joaquin Valley, and fishing is open year round on local lakes and sections of the Kern River.

Fishing
Kern County is an angler's dream. A number of lakes and streams promise to provide a good time to anglers of all skill levels. Whether you prefer easily accessible lakeside fishing or a solitary hike into backcountry, we have just the spot.

Water
Kern County is world-renowned for its whitewater activities but you can also boat, sail, jet ski or wind surf at sites all over the county.

Winter Sport  Kern County has plenty to keep winter visitors busy with plenty of snow play along with downhill and cross-country skiing.
Buy this property today for just $4,997
FOR CASH IN FULL WE WILL TAKE 10% OFF THE PRICE
The parcel is sold as-is and where-is with no warranties or guarantees either given or implied by the Seller. It is incumbent upon the Buyer to do their due diligence as to the suitability of the parcel for their own particular usage and/or needs. The sale of this parcel shall be final and no refunds shall be given whatsoever for any reason. THE TITLE WAS THOROUGHLY CHECKED AND THE SELLER GUARANTEES THERE ARE NO LIENS OR ENCUMBRANCES AGAINST THE PROPERTY.WE ACCEPT PAYPAL OR CERTIFIED FUNDS THROUGH THE MAIL.
This parcel is in my IRA-Individual Retirement Account and we can only accept funds through the mail 
*Disclaimer – Buyer must perform their own due diligence they should do with any land purchase. This land is sold as is and all information provided is to the best of seller's knowledge. Seller does not guarantee accuracy of property location on maps or descriptions show in listing as well as facts describing the property. Buyer to verify all details of property including property location and boundaries and lot lines, as well as feasibility to use property for buyer's desired purpose.  Many of the pictures provided are not personally taken by the seller and some of the presented pictures represent the general area near/around the property. All utilities related to this property are potentially subject to a connection charge or additional expense to bring them to or onto the property.  Furthermore, It is understood and agreed to by the parties involved that selling party, while holding an equitable interest in and to the property, is not presently making, and has not made, any representation to any party that it holds legal title in and to the property.  To the fullest extent permitted by law, the Buyer hereby agrees to waive, release and forever discharge Happyland.com, Happyland.com and all its affiliate companies from any claim, be it at law or in equity, that the Buyer, their heirs, transferees, assigns, subrogees, devisees, and agents may allege, arising out of our disclosure(s) of its present interest in and to the property, if any as well as out of any potential and accidental discrepancies in lot lines, pictures or property location to the actual property.
Map To Property
Property Address:
Property Details
Status: Available
State: CA
County: Kern
Parcel Number: 211-113-07 Plat Map
Annual Property Taxes: 227.55
Size (In Acres): 0.23
Size (In SqFt): 10000
Road Access: Yes - Unpaved
Electricity: Within 1 mile
Zoning: Residential
Terrain: Flat
.
Buy this property today for just $4,997
I'm Interested In This Property